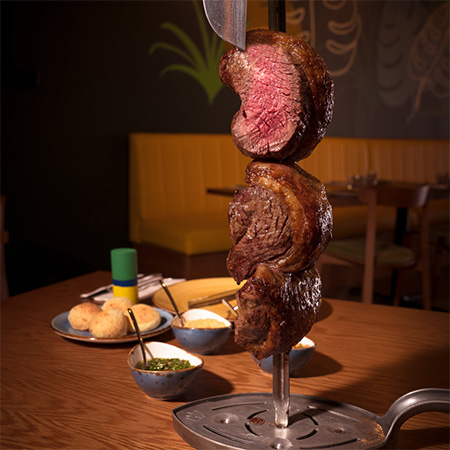 Literally, meaning "all good"? Tudo Bem is how Brazilians greet each other. And the reply to the question more often than not is Tudo Bem. Just the intonation is different. Tudo Bem is Hamilton's first churrascaria and Brazilian restaurant. Our food is delicious and we have created a vibrant and unique dining experience.
Churrascarias (Portuguese term used to refer to a place where meat is cooked) are very popular in Brazil and they typically serve slow barbecued meat with a range of accompaniments. Accompaniments are typically salads and bread and the meat is paired with select hand made sauces and condiments.
For the first time ever in Waikato, we have created an authentic Brazilian Churrasco experience. In addition to our meats, we have a delectable range of Brazilian vegetarian and vegan dishes. Our fully licensed bar boasts of a range of handcrafted Brazilian Cocktails that are a must-try. Whether you have been to Brazil and are seeking an encore of your experience or you have never set foot in Brazil at Tudo Bem you can truly experience the authentic vibrancy of Brazil.
Experience the true taste of Brazil in Hamilton!

The meats are served in the Rodizo Style – unlimited, all you can eat barbecue meat served with Brazilian salads, rice and bread. Our highly trained Passadors will bring skewers mounted with slow-roasted meat right from our open Barbecue straight to your table and will explain the cut and the meat on the skewer to you.
At your nod, they will slice off the topmost browned layer of the meat right onto your plate for you to savour the delight that is our juicy meat. The Rodizo service will continue as long as you want. If you would like to stop or take a break from devouring the meats or bread you can simply flip the traffic light from green to amber. The service will resume if you flip it back to green.